"POET Tree" events spread Arbor Day spirit
Elementary students help POET plant and distribute more than 9,400 trees
Friday, April 27, 2012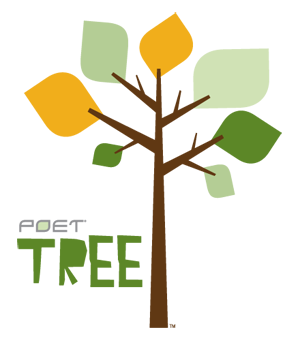 SIOUX FALLS, SD – Elementary students are joining POET employees in tree planting events across the Midwest as part of "POET Tree" Arbor Day activities.

"POET Tree" is POET's Arbor Day activity that celebrates the connection between energy and nature. This year, more than 9,400 trees are being planted in POET communities or distributed to students to plant at their homes.

"Plants are amazing in their ability to naturally store the sun's energy," POET CEO Jeff Lautt said. "We tap into a small piece of that here at POET, converting the energy to fuel and animal feed. Arbor Day is a time to remember and appreciate how much we depend on nature."

Students also took part in the POET Tree poetry contest, held each April in recognition of National Poetry Month. Each plant will have one winner who moves on to the corporate-wide contest.

South Dakota students who took part in the "South Dakota Road Trip" curriculum also submitted poems. In Sioux Falls, POET announced its South Dakota Road Trip poetry winners today. They are 1st place: Rebecca Gerlach (Plankinton), 2nd place: Mason Oyen (Canton), 3rd place: Olivia Nugent (Madison), 4th place: Keyaira Johnson (Hot Springs), 5th place: Elizabeth Nowacki (Big Stone).

About POET

POET, one of the world's largest ethanol producers, is a leader in biorefining through its efficient, vertically integrated approach to production. The 25-year-old company has a production capacity in excess of 1.6 billion gallons of ethanol and 9 billion pounds of high-protein animal feed annually from its network of 27 production facilities. POET also operates a pilot-scale cellulosic bio-ethanol plant, which uses corn cobs, leaves, husk and some stalk as feedstock, and expects to commercialize the process in Emmetsburg, Iowa through its joint venture with DSM. For more information, visit http://www.poet.com.