Lake Crystal, MN
POET Biorefining - Lake Crystal, Minnesota, consumes approximately 20 million bushels of locally-grown corn and produces 56 million gallons of ethanol annually. POET Biorefining - Lake Crystal is the 21st ethanol plant built by POET Design & Construction, who began building ethanol plants in the 1980s.

POET Biorefining - Lake Crystal provides not only an environmentally-friendly fuel, but also a premium, high-quality Dakota Gold® brand livestock feed for local, regional and national markets.

POET Biorefining - Lake Crystal is pleased to be part of the Lake Crystal community, employing approximately 44 people. We are proud to enhance the local economy with improved corn prices, value-added markets for farmers, good-paying jobs, and increased local tax revenue.

MINIMUM PRICE CONTRACTS WITH SIGNIFICANTLY REDUCED COSTS AVAILABLE FOR MOST DELIVERY PERIODS. CALL THE COMMODITIES DEPARTMENT AT 866. 862.3835 FOR MORE INFORMATION.

Click on the link below to access the current corn discount schedule.
---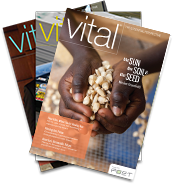 Want to stay connected? Get the latest news & information directly from POET through our print and online magazine, Vital - the Essential Perspective. learn more >>
OverviewInformation for InvestorsLocal Cash Corn Bids
---
Hours of Operation

Administrative Office
Mon - Fri, 8:00 AM - 4:30PM

Grain Receiving Hours
Mon - Fri, 8:00 AM - 4:00 PM

Contact
POET Biorefining - Lake Crystal
19200 499th Avenue
Lake Crystal, MN 56055
PH: 507.726.2645
FAX: 507.726.6028
lakecrystal@poet.com

For the Latest corn bids contact:

Commodity Manager:
Linda Schroepfer
linda.schroepfer@poet.com

Grain Buyer:
Ryan Powell
ryan.powell@poet.com