Hudson, SD
POET Biorefining is located two miles south of Hudson, South Dakota along the Sioux River and is the 19th plant designed and constructed by POET and the 14th plant to be managed by POET.

This facility commenced operations on May 17th, 2004 after less than 10 months of construction and was able to meet its nameplate capacity of 56 mgy within five days of production. This facility will grind approximately 20 million bushels of corn per year and will ship out over 145,000 ton of Dakota Gold® and over 1,500 rail cars of ethanol per year.

We employ approximately 40 people at our facility and have an annual payroll of nearly $1.5 million. We are always interested in buying corn from local producers and as an ethanol facility we add much value to the producer's corn we grind by; improving the local economy through jobs and an improved basis level, the environment through oxygenated gas, and reduction in energy dependence by easing the need for expensive foreign oil.

POET Biorefining - Hudson is excited about being part of the local community and we look forward to being involved in local events.

---
Now Hiring!
---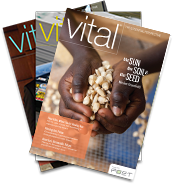 Want to stay connected? Get the latest news & information directly from POET through our print and online magazine, Vital - the Essential Perspective. learn more >>
OverviewInformation for InvestorsLocal Cash Corn Bids
---
Hours of Operation

Administrative Office
Mon - Fri, 8:00 AM - 5:00 PM

Corn Receiving
Mon - Fri 7:30 AM - 4:30 PM

Dakota Gold Loading
Mon - Fri 7:30 AM - 4:30 PM

Ethanol Loading
Mon - Fri 7:30 AM - 4:30 PM

Contact
POET Biorefining - Hudson
29619 SPUR AVENUE
PO BOX 439
HUDSON, SD 57034
PH: 605.984.2222
FAX: 605.984.2056
hudson@poet.com